GENERAL
We only deliver cars in the Algarve
Besides the international airports of Faro†we can deliver cars at your hotel or resort in the Algarve.
There is no minimum rental period, but a minimum charge of 3 days.
Minimum drivers age is 25, there are no upper age limit.
Drivers license must be valid in Portugal and held for more than 2 years. Please ensure to have all necessary documents available.
Return to top.

DEPOSIT
The car hire company require a credit card deposit as guarantee for the timely return of the car, in good order.
PLEASE NOTICE THAT WITHOUT VALID CREDIT CARD NO RENTAL CAR CAN BE DELIVERED. Return to top.
A22 TOLL SYSTEM†
The Algarve's main motorway, the A22, operates an unmanned toll system.
All cars are equipped with a toll transponder device, upon collection of your rental car you'll be asked for a 20 euro cash deposit (30 euro for mini buses) for the transponder.
This includes 15 EUR (25 euro for mini buses) worth of pre-loaded credit and enables clients to use the toll road without having to visit local pay stations/post offices.
An option to add more credit (by a minimum of 10 euro and multiples hereof) to the transponder is available upon collection or during the rental.
Remaining unused toll can unfortunately not be refunded.
If you know in advance that you'll not use the A22 a credit card slip will be made as security and kept for 5 days after the return of the car, then destroyed. Return to top.
BONUS USE
One bonus day (equal to one day in a group B car in the low season), is earned per 10 days booked and paid at normal rate. The bonus days are valid for 2 years and can only be used in the low season. Return to top.

RESERVATION
To make a reservation we must have full details of your flight number, flight time and departure airport.
When completing the reservation form, please check your email address once again as without it, we cannot reply to you.
Reservations must be done not less than 24 hours in advance of your arrival in Portugal to guarantee a confirmation of your booking.
At the airport a friendly staff member of the company will await you at the P4 car rental center just 50 meters from the terminal building - no buses!
1 Baby/Child seat is available free of charge upon request. Please mention this within the reservation form to guarantee availability. Return to top.

PRICE AND PAYMENT
One rental day is equal 24 hours - Each fraction of a day is considered as an additional day - Tolerance 1 hour.
Prices quoted on this web page are our best rates and further discount cannot be granted.
Rates for 3 days are 50 % of the weekly rates.
Rates more than 3 and less than 7 days are based on the 3 day pro-rata.
Rates more than 7 days are based on the 7 day pro-rata.
Full payment is required upon signing the rental agreement. The payment has to be done with a valid credit card (Visa or MasterCard), travellers cheques or in cash (also foreign currencies) - foreign cheques cannot be accepted.
All quoted rates include free mileage, unlimited public liability and V.A.T.
A 20 euro out-of-hour fee is applied between 21h and 8h
Return to top.

INSURANCE
Compulsory third party insurance, collision damage waiver (CDW) and theft cover are provided.
Personal accident insurance is not included. Insurance cover is subject to an excess and your maximum liability is indicated below. Here is the price for optional waiver of the excess:
Group A/A1/B/C1† - excess 1.250 Euro you pay 10 Euro / day
Group E/F/G/G1/G2 - excess 2.000 Euro you pay 15 Euro / day
Group H1/J/J1/L - excess 3.500 Euro you pay 20 Euro / day
Group A2/C1/E1/F1/J2 include SCDW insurance
Group A*/C2/E2/F2/J3 include SCDW + SPI insurance
PAI (Personal Accident Insurance) plus 4 Euro / day
SPI Group A/A1/B/C1 plus 16 Euro / day
SPI Group E/F/G/G1/G2 plus 21 Euro / day
SPI Group H1/J/J1/L/S plus 26 Euro / day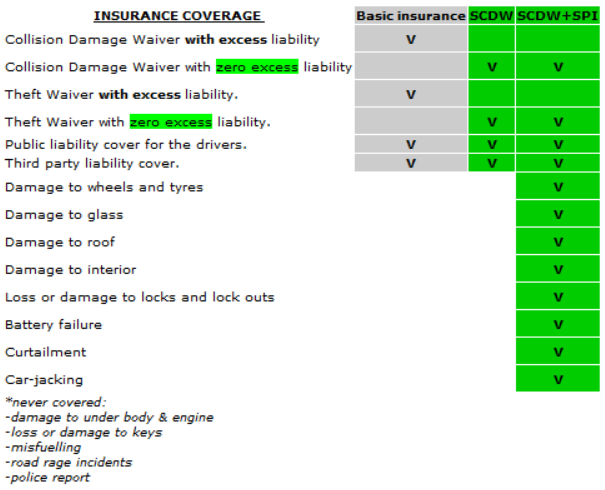 A police report is always requested for the insurance to cover, no matter the circumstances of the accident or damage to the car.


Further conditions
The vehicle must not be driven by anyone other than you and then only under the condition that your ability to drive is not in any way impaired by mental or physical incapacity or restricted by the Law.
If you wish to take the vehicle outside the country of rental, you must check that the YOR Car Hire-AR VI Terms & Conditions so permit you and, where necessary, obtain Yor car hire prior written consent.
Extra drivers (first is free, minimum age 25 years) must be added when signing the contact, present or with a photocopy of their drivers license. It is not possible to add extra drivers at a later time.

The optional cross border insurance for Spain only provide road side assistance up to Sevilla from the Portuguese border town of Vila Real de Santo Antonio. Beyond it is the renters responsibility to arrange repair or return of the rental car.
Some restrictions may apply with respect to:
- loading the vehicle on trains, boats, ferries or similar means of transportation;
- taking the vehicle from the mainland onto an island;
- taking certain types of vehicles across borders.
You are advised to check at the time of reservation.
You must take care of the vehicle, keep it in good repair and condition, pay any fines for which you may be liable, reimburse YOR Car Hire-ARVI for any damage to the vehicle, and refund YOR Car Hire-ARVI for any costs it incurs.
You are liable for all fees, taxes, fines and penalties incurred in connection with the use of the Vehicle and for which YOR Car Hire-ARVI is charged, unless they have arisen through the fault of YOR Car Hire-ARVI.
YOR Car Hire-ARVI will apply administration charges for the handling of fines!
During the rental period you must carry out the usual checks (engine oil level, tyre pressure, etc.) as would any careful user and you must respect the maintenance cycle of the vehicle as stated in the maintenance guide, if any.
When parking the Vehicle, even for a short period, you undertake to lock it and make use of the Vehicle's alarm and/or immobilisation equipment. You must never leave the vehicle unoccupied with the keys in the ignition. Non-return of the keys will lead to invalidation of the theft cover.
You undertake to use the Vehicle in a responsible manner and in particular, only for the purposes for which it is intended. For a car, this means primarily carrying passengers other than for hire and reward.
In particular, you must not use the Vehicle under any of the following conditions or for any of the following purposes:
Driving the vehicle under the influence of alcohol, drugs or any other type of narcotic substances.

Transportation of inflammable or dangerous goods, as well as toxic, corrosive, radioactive or other harmful substances.

Carrying anything which, because of its smell or condition, harms the vehicle or causes YOR Car Hire-ARVI to lose time or money before it can rent the Vehicle again.

Transportation of live animals (with the exception of domestic pets, subject to prior authorisation by YOR Car Hire-ARVI).

Use a roof rack, luggage carrier or similar, unless supplied by YOR Car Hire-ARVI.

Re-rental to or use by other persons.

Carrying passengers for hire or reward.

Participating in rallies, competitions or trials, wherever they may take place,

Giving driving lessons.

Pushing or towing another vehicle (except those vehicles equipped by YOR Car Hire-ARVI with a towing-hook; maximum load 1,000 kg), or exceeding the authorised load weight.

Travelling on non-paved roads or on roads, the surface or state of repair of which could put the vehicle's wheels, tyres or its under body mechanics at risk.

Intentionally committing any offence.

None of the goods and baggage carried in the Vehicle, including their packing and stowage equipment, will be permitted to damage the Vehicle, nor put the occupants abnormally at risk.

In any way which breaks the highway Code, road traffic laws or any other laws.

You will be liable for any offence committed during the rental period which relates in any way to your use of the vehicle, as if you were the owner of the Vehicle. Upon the request of the Police or any official body YOR Car Hire-ARVI may have to transfer your personal data. Such transfer will be done in accordance with the data protection Laws of Portugal.
Yor car hire- ARVI reserve the right to alter or change the conditions on our webpage, confirmation email or cancellations, without prior notice.

THEREFORE IN ANY CASE, NEITHER YOR CAR HIRE-ARVI  NOR ITS OFFICERS, DIRECTORS, EMPLOYEES WILL BE LIABLE TO THE CONTRACTING PARTY FOR ANY AMOUNTS NOR FOR ANY ACTIONS, LAW SUITS OR CLAIMS RELATED TO ANY DIRECT, INDIRECT, CONSEQUENTIAL, PUNITIVE DAMAGES (SUCH AS LOSS OF BUSINESS, LOSS OF PROFIT) ARISING OUT OF OR IN CONNECTION WITH THE RENTAL OR THE USE OF ANY VEHICLE WHETHER THE ACTION IS BASED ON CONTRACT OR IN TORT. YOU WILL INDEMNIFY AND HOLD YOR CAR HIRE-ARVI HARMLESS FROM ALL CLAIMS, LIABILITIES, DAMAGES, LOSSES OR EXPENSES ARISING OUT OF THE RENTAL AND/OR THE USE OF THE VEHICLE.


Note: These terms & conditions may change at any time without prior notice.
Please read them before reservation.

†